Now that we have your attention we ask you to read the following which is not far fetched and entirely possible. Breaking News in an update from Miami is also posted below. Hold on here folks, it seems that quite possibly the impostor they were using may have died that was cited in the story or the real Fidel may have died. Uncertain right now too much info coming in fast here. Could it be that the Government of Cuba is looking for a way out of their lies? So many questions at this point let's just see how it all plays out...
CASTRO IS DEAD
CIA RUNS CUBA
Fidel Castro died in 1981, and was replaced by a look-alike CIA plant. The dictator ate tainted shellfish and died. CIA infiltrators wasted no time in covering this up, and installing an agent named Alexis Papagos to impersonate Castro, and run the country. This information comes to THE UNCOVEROR via Cuban national, Igor Davidovich Martinez.
Why, then, does the U.S. government maintain the embargo against Cuba? "The CIA is turning a great profit by selling contraband Cuban goods on the black market," says Martinez, "and they don't want to give that up." The CIA sees to it that the embargo stays.
What tipped Martinez off? Before 1981, the real Fidel Castro nearly always wore a military uniform. After that year, "Castro," really Alexis Papagos, appeared more often in civilian clothing.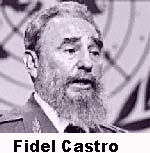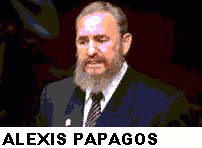 This prompted Martinez, and several others to start digging. Of those who discovered this deception, only Martinez remains alive.
The plot almost failed. A few people in 1981 heard of Castro's death, and began a rumor that he had died of syphilis, but the CIA quickly made those people, some of them Americans, Disappear. They needed the world to think that Castro was still alive. They didn't want you to know, but thanks to THE UNCOVEROR, now you do.
Source: http://www.uncoveror.com/castro.htm
UPDATE THIS JUST IN!!!
Fidel Castro death rumors circulate on Twitter
BY ALFONSO CHARDY
THE MIAMI HERALD
Rumors about Fidel Castro's death or that he's on his deathbed emerge frequently, and the most recent started circulating a few days ago via Twitter, the popular social network.
There were so many messages circulating and coming from all over the world that well-known Cuban dissident and blogger Yoani Sánchez felt that she had to "tweet" saying she didn't know whether Castro was alive or dead.
"My phone hasn't stopped ringing. Everybody is asking me if it's true that Fidel Castro is very sick," was part of the message Sánchez wrote on her Twitter account around 3 p.m. Tuesday. "I DON'T KNOW, and if it were true, we Cubans would be the last ones to find out."
It's hard to pinpoint where, how and when the message originated. But as a common Web virus, every time the message was forwarded it spread like a cyber infection.
As of Tuesday the rumor reached such a global magnitude, with messages coming and going from country to country, that some news media outlets started to investigate. An Internet site in Argentina blamed a news Web page in Chile as the culprit of the rumor. But the Chilean site said that it didn't have any information about Castro's health.
The site Naked Security, which investigates "malware" complaints or viruses sent by users that spread through the Web, said the Chilean site was not responsible but somebody who pretended to be part of the Chilean Web page.
According to Naked Security, the original message emerged early August as an email message with the subject "Fidel Castro is dead," followed by a picture of him in a casket. Naked Security determined that the message about Castro was fake and linked it to programs designed to disrupt computer systems.
There were two links under the photo inviting the users to see the photo and check a video.
Naked Security warned against opening such message or clicking on any of the links.